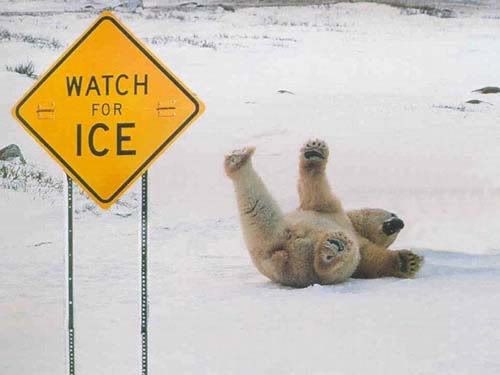 I fell on the ice today. Not a simple slip and recover but an all out fall. My feet shot up, my head went down, followed by my butt and back, and I lay there, dazed. The ironic part is that I was helping an elderly lady at the time.
After I finished loading the groceries into my van, I watched the car, with a lady clutching the steering wheel and her head covered with a turquoise scarf, pull up to the recycling dumpster; noticing her age and unsteadiness, I surmised I could help her while teaching my kids about service.  You know, a priceless lesson they will undoubtedly, and fondly, remember twenty years down the road.
So I approached her and asked if I could help. I grabbed the books and magazines from her front seat, smiling, and made my way to the recycling dumpster; unknowingly walking across a thin, and particularly slippery, patch of ice.  As my feet shot up, I couldn't help but laugh, sardonically, at my careful plan now taking a dramatic--and painful--turn.
As I shakily rose from the ground, Emily queried after my condition, "[Are you] okay, Mommy?  Did you hurt?"
"Yes, yes, I'm okay," I laughingly replied for both Emily's and the elderly lady's sake.  I continued with my quest and finished my so-called service project.
I helped the lady to her car, while truthfully telling her how glad I was that it was me and not her; especially after she informed me of her age: Ninety.
Driving home, I pondered over my object lesson.  It didn't turn out exactly as I anticipated; I'm sure if my kids retain any memory of the event they will only remember the fall.  But it did symbolize my own re-entrance into the world outside my own problems: Unexpectedly painful and undeniably worth it.